Take a BLS class at one of our offices in Miami, Coral Springs, Pompano Beach, Tallahassee, Fort Lauderdale or West Palm Beach (or the staff from CPR Florida can even do group or private classes at your location if you call or email us). Our American Heart Association Healthcare Provider Basic Life Support (BLS) Certification First Time or Renewal course is designed for people who need a cpr and aed class with job-related duties in emergency preparedness and response. (You would take this class vs. the layperson heartsaver cpr and aed class if you have patients, are a nurse, emt, etc. ) BLS - This is a cpr and aed course for healthcare professionals and covers 1 and 2 person Adult, Child and Infant CPR, use of an AED (defibrillator) on both a child and adult, choking (heimlich maneuver) for infants, children and adults, airway obstruction, bag valve mask and how to use a breathing barrier or pocket mask. This includes nurses, law enforcement and EMS personnel, EMT, emt students, nursing students, fire fighters, athletic trainers, dentists, CNA, business and industry response teams, lifeguards, flight attendants, and others who must take action in emergency situations. The AHA now calls Healthcare Provider BLS just "BLS". The AHA made this change and now the card that is issued to healthcare providers by the aha now onlys says BLS on the card. Here is more info: http://cpr.heart.org/idc/groups/ahaecc-public/@wcm/@ecc/documents/downloadable/ucm_483580.pdf
First Time or Renewal Class - Normal classroom setting: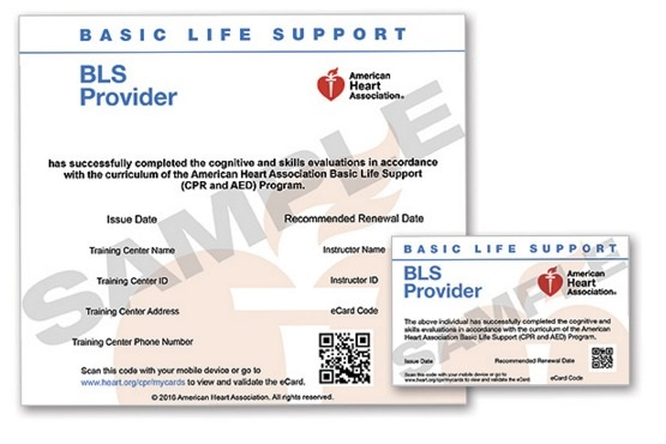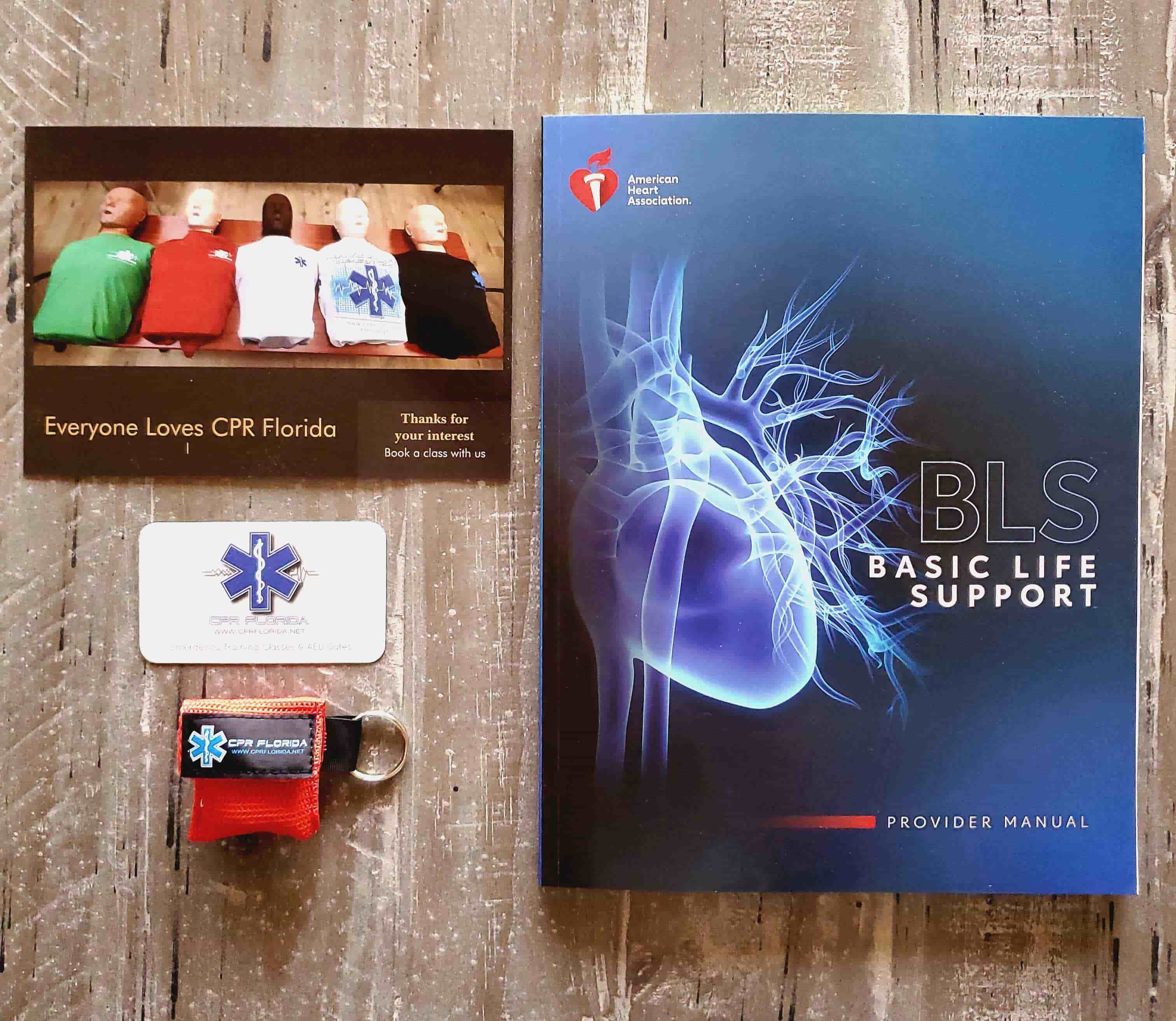 Certificate: 2 year American Heart Association (AHA) Healthcare Provider BLS certification ecard given the very same day. The card now says "BLS" at the top.
What is the card and certification for? This is a cpr and aed class for healthcare professionals. This cpr and aed (BLS) class for healthcare professionals includes a 25 question written quiz at the end of class.
Price: $80 (first time or renewals same price)
Who is this class for?: Nurses, law enforcement and EMS personnel, EMT, fire fighters, doctors, PA's, athletic trainers, dentists, CNA, business and industry response teams, lifeguards, flight attendants and anyone with patients.
Are your classes SAFE during Coronavirus? Yes, of course: cprflorida.net/coronavirusnotification
If you need cpr aed and first aid class, click here to get certified and learn more information.

OPTION 1 (traditional bls class):
Class length: Approx 3 hours.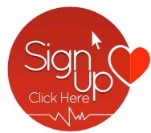 Sign up for a BLS Certification Class Here

eCard benefits:
Electronic course completion cards are viewable online, and offer a valid alternative to printed course completion cards for BLS.
Can be presented to employers as proof of successful completion of an American Heart Association course, and employers can verify the eCard online
May be printed, if needed
Valid for 2 years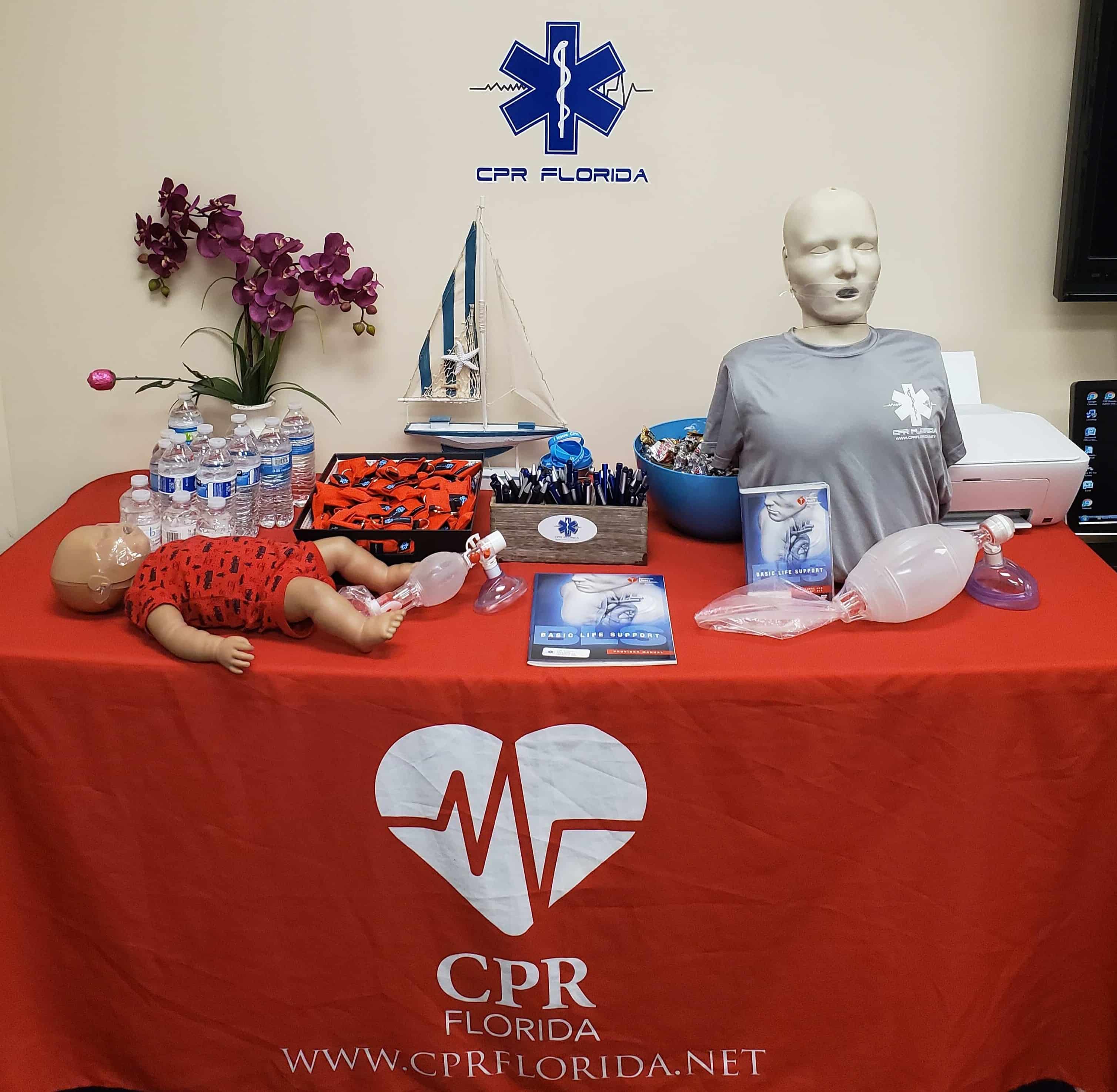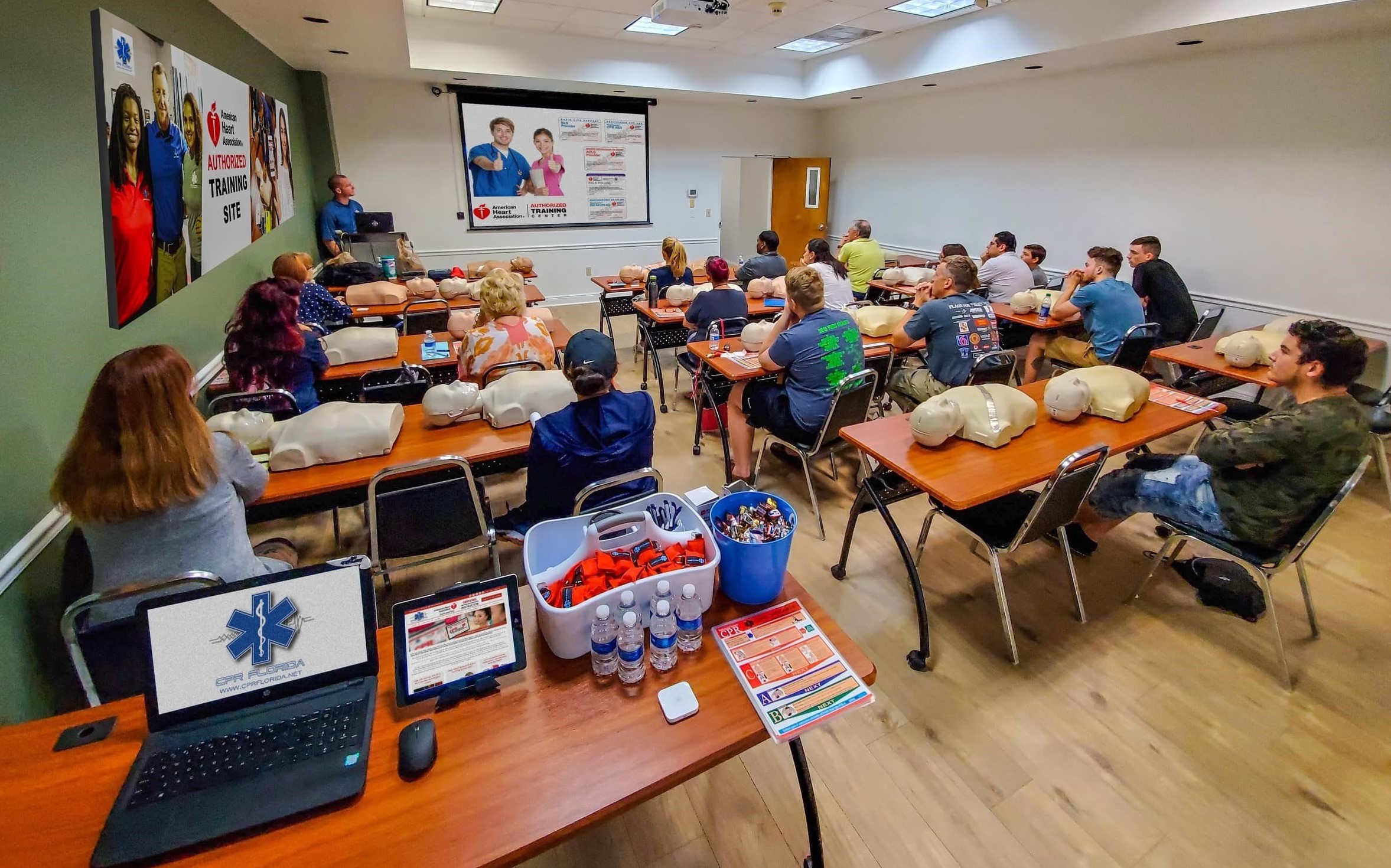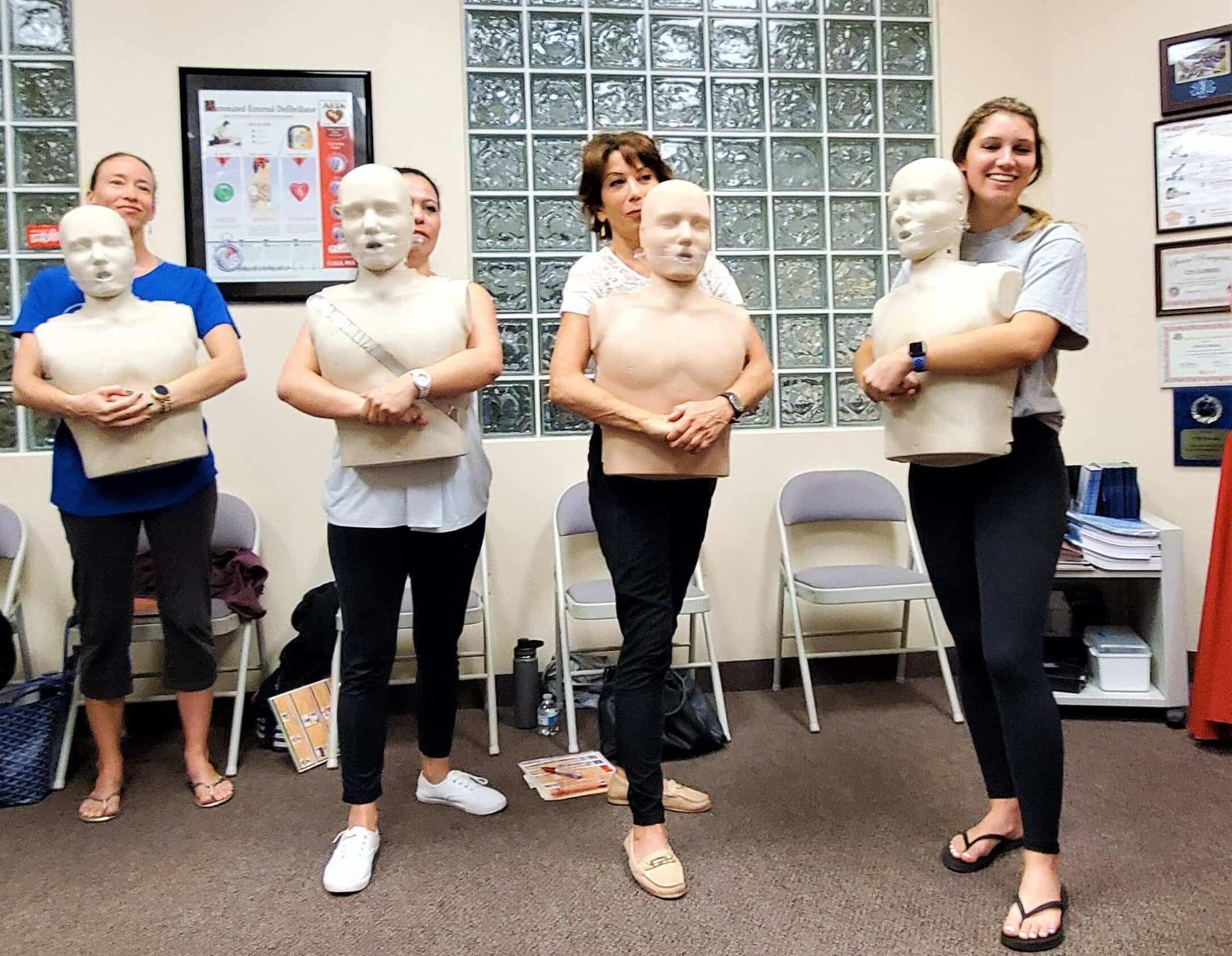 OPTION 2 - Rarely given Most of the time, we set this up for private renewal classes for nurses, at a doctors office or dental office. We can do the option 2 type of class if there is a group or business that wishes to do this and needs to email us ahead of time to set up:
If we set this up for your office, everyone must do the online portion ahead of time and pay the AHA for the online portion first, then us for the 2nd hands on part. That is why we recommend the tradional classroom setting. With the blended class, students will first learn online during a 1.5 hour online scenario and video based sessions (not in class) single-rescuer and team basic life support for adults, children and infants through 5 interactive exercises, scenarios and a written test. Navigation controls allow students to move easily through content as they learn how to recognize life-threatening emergencies, provide high-quality chest compressions, deliver appropriate ventilation and provide early use of an AED. Course also teaches relief of choking. After this online portion is done, you email us if you have a group to do a 55 minute hands on portion and get your card.
BLS for Healthcare Providers Online part 1
|

|

|

This self-paced course is accessible anytime from any computer. Students can access the BLS for Healthcare Providers Student Manual, BLS Pocket Reference Card and more for 24 months.
Upon successful completion of any of the above online courses you must meet with a CPR Florida instructor to complete your skills test. Skills tests could range from 50 mins to just over 1 hour depending on skill level. The online courses are issued the same exact card from the American Heart Association as the in person classes.
This class can be done for first time or expired people, but it is
highly recommended
if you have never taken the cpr or bls class, are "rusty" or might feel slightly pressured in a faster class, pick the normal $80 classroom class which is just over 3 hours long.
Learn all the steps of CPR and How to use and AED from the best in Miami Dade County, Broward County, Palm Beach County, Orlando, Tallahassee and all over South Fl. "CPR Florida" is an authorized provider of American Heart Association, ASHI and Red Cross Certification Classes:




You will love that we provide all participants with an upbeat and hands-on educational class, plenty of first aid supplies, aed trainers, your own cpr manikin and even free pens, face shields and cpr keychains for each student! Come to our sites for classes in West Palm Beach, Coral Springs, Pompano Beach, Tallahassee, Miami or Fort Lauderdale, or we can travel to your school, office, business, clinic or home anywhere in FL for private, small or large group trainings that has been ranked number one from 2006 to 2020. Main cities we travel to:
miami, west palm beach, jupiter, delray, boca raton, wellington, miami, fort lauderdale, fort pierce, pompano beach, boynton beach, palm beach gardens, wellington, royal palm beach, hollywood, weston, coral sprigs, pembroke pines and other areas in south fl.