Feel safe knowing the staff at CPR Florida is accredited, licensed and insured and has offices in West Palm Beach, Miami, Pompano Beach, Coral Springs, Fort Lauderdale and Tallahassee or we travel to you for all cpr aed and bls certification classes. See our free study guides and fact sheets.
American Heart Association Heartsaver Layperson CPR and AED only (covers layperson adult, child and infant cpr, using an aed defibrillator and choking): $70 per person.
or
American Heart Association Heartsaver Layperson CPR, AED and First Aid combo class (covers layperson adult, child and infant cpr and choking, using an AED and first aid skills): $75 per person.
Click Here to Register Now for a Heartsaver cpr and aed class!


This is the American Heart Association (AHA) Heartsaver CPR and AED Training Class (this heartsaver cpr aed course is not for healthcare professionals..that specific course is called "healthcare provider bls" which costs $80). If you need a BLS class, click here. Learn how to recognize the symptoms of a SCA, Stroke, Heart Attack and how to do Layperson CPR (for adults, children, and infants), heimlich maneuver (choking), hands only cpr, compression only cpr and rescue breathing. In addition, in all classes, we will teach you how to use an Automated External Defibrillator (AED) for victims of sudden cardiac arrest. These important devices are becoming available in more and more public places, such as airports, hotels, schools, and health clubs. Visit our AED Store to purchase your own HeartStart Defibrillator. Gain confidence in your ability to handle medical emergencies. This first aid portion of the course provides skills in first aid emergencies such as bleeding, allergic reactions, use of epi pen, heat illness, sprains, strains, glove use and removal, burns, seizures, and fractures along with accident prevention. The class also meets OSHA standards for childcare providers, daycare centers, coaches, after care workers, construction workers, counselors, etc.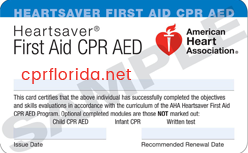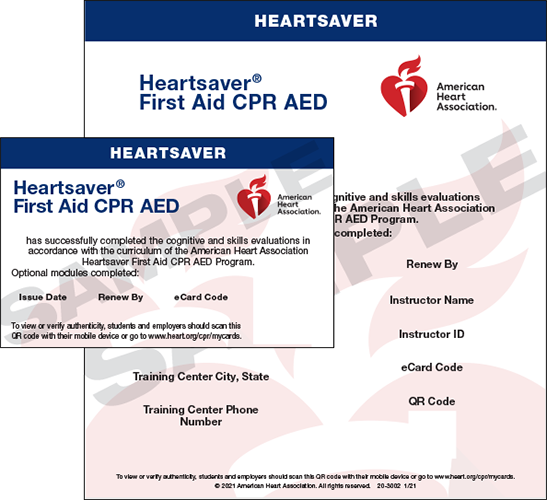 Certificate:
American Heart AssociationHeartsaver CPR/AED eCard given the very same day valid for 2 years (lists adult, child and infant certifications on the card)
Manual:
Training book included at class if you do not have one.
Prices:
Heartsaver Layperson CPR and AED
certification training is only
$70
Heartsaver Layperson CPR, AED and First Aid
Certification Class is
$75
Who is this class and course for?
Childcare providers, daycare centers, teachers, coaches, personal trainers, after care workers, some hhc, construction workers, counselors, (this class is not for healthcare professionals...that is called BLS).
Are your classes SAFE
during Coronavirus? Of course:
cprflorida.net/coronavirusnotification
eCard benefits:
Electronic course completion cards are viewable online, and offer a valid alternative to printed course completion cards for cpr and aed or cpr aed and first aid.
Can be presented to employers as proof of successful completion of an American Heart Association course, and employers can verify the eCard online
May be printed, if needed
Valid for 2 years

Commonly asked questions: "CPR Near Me? " Yes, we have cpr classes all over florida.
"Do I have to sign up online?" YES.
"I am going to be a nurse, emt or firefighter...is this the class I need?" NO! You need the Healthcare Provider BLS class, that is $80.
"Do I have to pay online for all classes?" Your choice. You can pay online through our website or just pay by cash or check when you arrive.
"Am I supposed to have my own AHA book?" Yes. If you forget or don't have one review at www.cprflorida.net/cprreview we also have them at class.
"Do you have classes during the Coronavirus, Covid 19?" Yes, and our office and manikins are all disinfected and everyone wears a mask at class and socially distances.
"How long are the classes?" Each class is not exact (number of students, location,etc) so approx. times are: cpr and aed is about 2.5 to 3 hours. CPR, aed and first aid is approx. 4 hours.
"Do you do free classes? No, we are a busines and this takes time, energy and we have to pay for business supplies and for our instructors time off of work. There are a lot of "free" classes that are not truly free or a scam or just are online. Choose us for a class and training that can not be beat! Take a real class with us and you will learn to be a true lifesaver!

If you want a private class at a higher fee, email us at info@cprflorida.net
Learn CPR from the best! "CPR Florida" is an authorized provider of American Heart Association, ASHI and Red Cross Certification Classes in 2020:



You will love that we provide all participants with an upbeat and hands-on educational class, plenty of first aid supplies, aed trainers, your own cpr manikin and even free pens, face shields and cpr keychains for each student! Come to our sites for classes in West Palm Beach, Coral Springs, Pompano Beach, Tallahassee, Miami or Fort Lauderdale, or we can travel to your school, office, business, clinic or home anywhere in FL for private, small or large group trainings. Main cities we travel to: miami, west palm beach, jupiter, delray, boca raton, wellington, miami, fort lauderdale, fort pierce, pompano beach, boynton beach, palm beach gardens, wellington, royal palm beach, hollywood, weston, coral sprigs, pembroke pines and other areas in south fl. Here are the other local cities we teach cpr near you pages: https://cprflorida.net/locations/miami https://cprflorida.net/locations/fortlauderdale https://cprflorida.net/locations/westpalmbeach https://cprflorida.net/locations/pompanobeach