Lost , Stolen or Replacement Certification Cards:
After an official AHA class, you are given a paper card or ecard.   If you took the class from www.cprflorida.net we issued this card to you directly.  You are in possession of this card and there are no copies.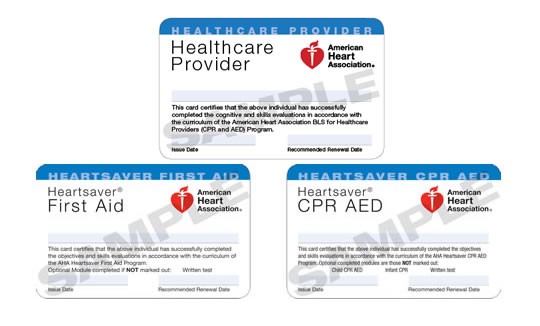 If you lost your card or it was stolen, it is your responsibility to get your own replacement card.  Please note that this webpage site is only for those who took a class in Florida with www.cprflorida.net    If you took the class somewhere else, you must contact that training site or center and instructor.
To get a new card, You must supply the date, time and location and training site or center where you took your class.  Again, before you call or email the Coral Springs Center below, have all of your information ready to send to them.
How to get a replacement card:
Have all your information about your previous class ready to go and then contact the AHA site coordiinator for your replacement card at:
Coral Springs Regional Institute of Public Safety
4180 NW 120th Ave, Coral Springs, FL 33065
Phone number: 954-346-1373
Email: cprclasses@coralsprings.org
 
Yes, there is a fee. Again, only contact them if you are positive you took the class with CPR Florida.  If you took the class with a different company, you must contact them.
*If you need a new class from the #1 training site in FL, be sure to visit www.cprflorida.net